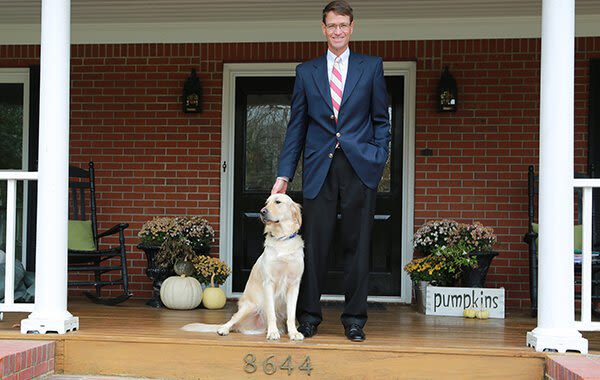 When I graduated from law school in 1986, I joined a defense law firm right here in Kentucky. There, I worked hard to build up my litigation and trial skills, but came to realize that I wanted to be on the other side of personal injury lawsuits. I wanted to be the guy who helps people get their lives back on track after being hurt in an accident or losing someone they care about. Those are the people who could really use a strong support system — from both a personal and legal standpoint. I started representing the victims of auto accidents, motorcycle accident and truck accidents while I was working at the defense law firm and in 1994 I decided I wanted to do that full time.
And so I set out on my own. I founded the Troutman Law Office and started working with people who had been injured in car wrecks, harmed by faulty products, and lost loved ones in accidents that could have been prevented. With each family I helped, I became more confident that I had found my calling. Personal injuries can be very hard on the people involved, and it's never easy to see the struggles a family is going through as a result, but that's exactly why I do what I do. I enjoy easing that burden in any way I can and providing some financial stability for the victims and their families. If you or a loved oned needs that kind of help and service, please contact me so that I can provide the level of service you deserve in this difficult time. You can call me directly at 502-648-9507 or click here to send me a message.
I AM YOUR LOCAL ATTORNEY NO MATTER WHERE YOU LIVE
IN KENTUCKY AND OHIO
I have offices in Louisville and Lexington, Kentucky, but I can be your LOCAL ATTORNEY no matter where you live in Kentucky of Ohio. I can do this because I am willing to meet with you in your home. Most attorneys want you to come to their office where you will likely be made to wait and go to the trouble of dressing up and travel to their office. I come to your home so I am actually closer to you than the attorney that makes you come to his office. Of course, if you do not want to meet in your home, we can meet in another close by location or even in my car. A second way that I am closer to you than the attorney located in your town is that I give you my personal cell phone number so that you can call or text me most anytime. The attorney in your town will require you to call an office number and then he or she will likely not be available when you call so you will be playing phone tag. I cannot tell you how many times clients have come to me after being represented by an attorney near them that did not communicate with them. So near but yet so very far away.
Why have an office number when I can give my clients a direct line to me?
BALANCING GREAT SERVICE AND AFFORDABILITY
It has now been more than 36 years since I first began practicing law. Throughout that time, I have continually worked to implement outstanding service and affordability without losing the personal touch that only a small firm can deliver. Fortunately, I've found a way to make these goals work in tandem. You see, by choosing to focus on personal service, I have in turn kept my firm small. By keeping my firm small, I have refrained from pouring money into a lot of ritzy advertising campaigns. And by avoiding such elaborate business costs, I have been able to keep my attorney fees reasonable, but, most importantly, I have been able to give my clients the kind of attention that they deserve.
As an added bonus to my clients, I offer free consultations and work on contingency — meaning I don't collect a thing unless we win. The way I see it, these are just a few more ways I can help to put each client's mind at ease.
OUTSIDE THE OFFICE
I am very thankful to say that my family takes up the vast majority of my free time and a lot of that time is spent at our church where we have been members for over 30 years. Between my five children and two grandchildren, two dogs and four cats, hardly a day goes by that I don't have a family event on my calendar. The picture at the top of this page is me with Charlie, our golden retriever.
GIVING BACK
It is my privilege to be able to provide free legal services to those in need who cannot afford legal representation. Sometimes that is simply answering questions about what to do about a property damage claim from an auto accident when the person was not injured or what to do about a bad car purchase. Also, I volunteer at a legal clinic called Access Justice several times a month. To contact Access Justice go to their website here and find a clinic nearest you.
BAR ADMISSIONS
Kentucky Bar License - 1986 - present

Ohio Bar License - 1991 - present

Kentucky Bar Association - Member since 1986

Ohio State Bar Association - Member since 1991
EDUCATION
B.S. in Political Science from Ohio Wesleyan University - 1982

Juris Doctor Degree from University Louisville Brandeis Law School - 1986
PROFESSIONAL HISTORY
Rawlings & Associates- Associate Attorney - 1986 - 1994

Troutman Law Office - 1994 - 2012

Schiller, Kessler, & Gomez, PLLC - Managing Partner - 2012-2014

Troutman Law Office - 2014 to present