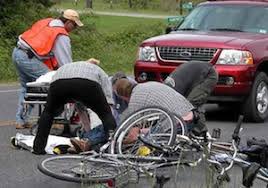 Driver Of Moped Died After Accident with Fire Truck in Danville, Kentucky
---
Danville man driving a moped was killed in an accident with a Danville Fire Department Ford F550 truck in Danville, Kentucky in the early morning of Sunday, April 16, 2023. The accident took place at the intersection of Main and 2nd Streets in Danville. The fire truck was not responding to an emergency and there has been no indication who entered the intersection on the red light. The moped driver was taken by EMS to Ephraim McDowell Regional Medical Center where he died. Kentucky State Police are investigating this accident.
Kentucky laws benefit auto accident victims
I am sure most people realize that state laws vary. Each state has its own legislature and court system, which creates and enforces laws related to many issues including auto accidents, truck accidents and motorcycle accidents. Kentucky's laws, on the whole are more accident friendly than many other states including the border states of Indiana, Ohio and Tennessee.
The first attribute Kentucky has is that it is a no-fault state. That means all drivers are required to have $10,000.00 of insurance covering medical expenses, lost wages and a few other expenses. (By the way, no-fault does not mean no one is at fault. Someone came up with a bad name for these laws) One exception to this law is motorcyclists, who may opt out of the no-fault laws. The surrounding states do not have these laws. You can purchase medpay coverage in the other states, but it is normally just $5,000.00 covering medical expenses only. One aspect of the Kentucky no-fault laws that is really special is that if you are from out of state and your insurance company is licensed to do business in the state of Kentucky, the law requires your insurance company to provide Kentucky no-fault insurance even though you did not purchase it. Also, if you do not own a car or live with a relative who does, Kentucky law provides no-fault insurance for you.
Kentucky law makes insurance companies offer uninsured motorist coverage. Uninsured motorist coverage is insurance that pays for pain and suffering and other damages caused by an uninsured motorist that is at fault in an auto accident. There are plenty of people driving in Kentucky and other states with no insurance and they cause a disproportionate amount of the accidents. Kentucky requires your insurance company to offer this insurance. You must sign a rejection form and if the insurance company fails to have you sign the rejection form, they are required to provide the coverage even though you did not pay for it.
Kentucky does not have a guest statute, which is a statute preventing you from making a claim against a family member or friend giving you a ride at the time of an accident. In Kentucky, you can make a claim against your wife or husband or anyone at fault in causing your accident. Indiana has a guest statute and other negative laws for auto accident victims because the insurance companies have strongly lobbied for these laws. Kentucky does not have any laws restricting how much money can be awarded to an accident victim. Many other states have these laws and they are called tort reform laws. They are in place because insurance companies want them.
Kentucky has a longer statute of limitations for most auto, truck and motorcycle accidents. If you have no-fault insurance, then you have two years from the date of the last no-fault payment before your claim expires. If you do not have no-fault insurance, then you have one year before your claim expires. Many states have much shorter statutes of limitations.
CONTACT KENTUCKY AUTO ACCIDENT LAWYER
If you are involved in a car, truck or motorcycle accident, you will require the services of an experienced Kentucky auto accident attorney to investigate the cause of the accident and maximize all benefits available to the victims and their families. Matthew Troutman, a Kentucky auto accident lawyer, of the Troutman Law Office has been handling auto accident claims, almost exclusively, since 1986 and has the experience and talent to obtain the best result for the victims in the above car accident.
If you need legal assistance due to a motor vehicle accident, contact Kentucky auto accident attorney Matthew Troutman directly at 502-648-9507 or 859-696-0001 and he will meet with you in the hospital, your home or wherever is convenient for you. He will give you direct access through his cell phone and guide you through the difficult process necessary to obtain the best result possible for you in your car accident claim. To learn more about Lexington car accident attorney Matthew Troutman and the Troutman Law Office, click here.