TRUCK ACCIDENT ATTORNEY, LEXINGTON, KY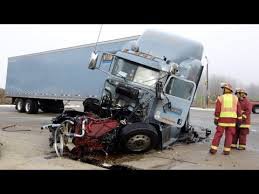 SERVING RESIDENTS OF LOUISVILLE, LEXINGTON, COVINGTON, AND THE ENTIRE STATE OF KENTUCKY
As a victim of a truck accident, it is important that you are represented by a truck accident lawyer in Louisville who is experienced in handling truck accident claims. There are many similarities between a truck accident claim and an auto accident claim, but there are also many subtle differences, and you need a truck accident attorney in Lexington and Louisville who has experience with these differences. The Troutman Law Office in Lexington is available 24/7 and can provide the legal guidance and representation to victims that have been injured.
When you work with the Troutman Law Office in Lexington, our truck accident lawyers will give you personalized attention. In addition, you will receive the following:
1. AN ATTORNEY EXPERIENCED IN DISCOVERING INFORMATION FROM THE TRUCKING COMPANY.
The Troutman Law Office knows how to search through trucking log books, medical records, and other sources that will allow for the persuasive presentation of your claim against the trucking company. Truck companies and drivers sometimes lie about taking the rest breaks they are required to take under the law. Drivers may misrepresent their health or experience, and sometimes companies fail to properly vet or train their drivers. Our firm can perform the investigation you need to protect your rights and get the maximum recovery allowed under the law.
2. A TRUCK ACCIDENT ATTORNEY IN LOUISVILLE WHO IS EXPERIENCED IN LOCATING ASSETS OF THE TRUCKING COMPANY.
The Troutman Law Office has experience locating trucking company assets to satisfy your claim. Many trucking companies organize themselves so as to limit the assets that may be subject to a claim such as yours. The Troutman Law Office will locate all available assets belonging to the trucking company to satisfy your claim. Our firm knows their tricks to hide their assets.
3. A TRUCK ACCIDENT LAWYER EXPERIENCED IN LITIGATING CASES AGAINST TRUCKING COMPANIES.
The Troutman Law Office has experience in litigating cases against trucking companies. Many law firms claiming to know how to handle these claims have never filed a lawsuit against a trucking company. You can benefit from this experience should your case require litigation.
COMMON CAUSES OF TRUCK ACCIDENTS IN LEXINGTON AND LOUISVILLE, KENTUCKY
Truck accidents tend to be more serious than accidents involving passenger vehicles. Trucks carry more weight and the injuries that victims sustain in these accidents tend to be more severe. Drivers and companies have a responsibility to follow local and federal trucking laws to protect other drivers on the road. Unfortunately, trucking companies may put their bottom line above both drivers and public safety. Here are some of the common causes of truck accidents in Lexington and Louisville, Kentucky. If you believe you or a loved one was injured in a truck accident due to a driver or company's negligence, the Lexington and Louisville semi-truck accident attorneys at the Troutman Law Office can help.
Violation of Hours of Service Laws. Drivers need regular breaks in order to be safe behind the wheel. Fatigued driving is dangerous driving. Some research suggests that tired drivers may be just as dangerous as drunk drivers. Federal hours of service laws limit how long a driver can be on the road for a shift before resting. Even though the current laws are fairly permissive, allowing drivers to be on the road for long periods of time, drivers and companies still sometimes break the law. Drivers are under immense pressure to deliver goods on time. In order to do this, they may push themselves to stay on the road for longer hours. While drivers are required to keep up-to-date logs to record their hours, sometimes drivers or companies falsify these documents. A skilled truck accident attorney in Lexington or Louisville, Kentucky can examine both logs and delivery schedules to check that drivers involved in accidents were following the law.

Drunk Driving and Driving While Under the Influence of Prescription Drugs. Drivers are not permitted to use certain drugs if they are commercial truck drivers. They are also required to pass physical test requirements to certify that they are healthy to drive. However, not all companies properly vet drivers, and a driver's health may change. Some drivers are addicted to medication that keeps them awake or pain-free. These drugs can interfere with a driver's ability to perform the basic tasks of operating a motor vehicle. A qualified semi truck accident attorney in Lexington and Louisville, Kentucky can evaluate the medical history of a driver involved in an accident and evaluate police reports for drug use.

Truck Maintenance. Truck companies are required to keep their vehicles repaired and maintained. However, failure to change tires, check breaks, or ensure that loads are properly secured can lead to serious accidents. A Louisiana and Lexington truck accident attorney can look at repair logs, repair bills, and other documentation to check to make sure that a truck company properly maintained its vehicles.
These are just a few of the causes of truck accidents. Speeding, distracted driving, and reckless driving also contribute to accidents every year. If you or a loved one was hurt due to the negligent actions of a truck driver, you may be entitled to receive compensation to cover medical expenses, lost wages, and pain and suffering damages. Contact the qualified Lexington and Louisville truck accident lawyers at the Troutman Law Firm today.
PROTECT YOUR RIGHTS
The truck industry makes billions of dollars every year. Companies may have teams of lawyers protecting their interests. Truck companies are required to carry high-value insurance, but insurance companies may try to protect their bottom lines by offering you the lowest settlement permitted under the law. You need a semi-truck accident lawyer working on your side to help you get the maximum compensation permitted under the law. The Troutman Law Firm will look to truck companies, drivers, and insurers to help you get the justice and recovery you may deserve.
RELATED LINKS:
Kentucky Commercial Transportation Laws
Kentucky Commercial Vehicle Enforcement