DEFECTIVE PRODUCTS LAWYER, LEXINGTON, KY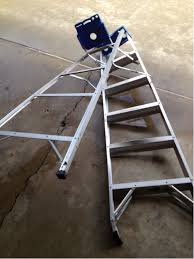 Matt Troutman has been a personal injury lawyer since 1986 and he has handled defective products cases including a defective ladder case as demonstrated in the above picture. Mr. Troutman has prosecuted thousands of personal injury claims and he will handle your claim personally from start to finish. You can learn more about Mr. Troutman by clicking here.
HOW TO IDENTIFY A DEFECTIVE PRODUCT CLAIM AS DESCRIBED BY A DEFECTIVE PRODUCT LAWYER
A chair that collapses when a man attempts to sit in it causing a rotator cuff tear; a vehicle that has a spare tire located in the rear of the vehicle next to the gas tank resulting in a tank explosion in a normal rear end vehicle accident; a bag dispenser that detaches from a grocery store shelf when it is being used causing a hand injury requiring surgery; and a ladder rung that breaks as a man attempts to climb it are examples of defective product cases handled by the Troutman Law Office. These are only a few examples of defective product claims. Any product that fails to work as intended or reasonably expected and as a result causes personal injury constitutes a defective product claim. Other examples include medications and almost anything you buy off the shelf at a store.
THERE ARE THREE (3) TYPES OF PRODUCT LIABILITY CLAIMS
1. Design Defects - Products that are inherently dangerous based upon its design alone are called design defect cases. For example, a car that is designed to be top heavy and as a result creates a high risk of rollover. Another example of a design defect is the Troutman Law Office case mentioned above where the spare tire of a vehicle was designed to be located next to the gas tank so that a rear end collision would cause the spare tire to pierce the gas tank and cause a devastating fire that severely burned children in the back seat.
2. Manufacturing Defects - Manufacturing defects are the most common products liability claim and they allege that a defect took place in the making of the product that made it dangerous and caused injury to a person. A manufacturing defect exists if the product does not conform to its intended design and fails to perform safely as intended.
3. Warning or Ladeling Defects - The final type of products liability claim is the claim that the product had some inherent danger and that the manufacturer should have known about and failed to warn the consumer about prior to use. This claim can include the purchase of scolding hot coffee from a restaurant. The key to this claim is the manufacturer knew or should have known of the danger and did not tell the consumer and the consumer was injured as a result.
THE MOST IMPORTANT THING TO DO AFTER BEING INJURED BY A DEFECTIVE PRODUCT- PRESERVE THE PRODUCT!
The most important thing to do after being injured by a defective product is to preserve the product itself and/or take detailed pictures of the product. If the product is lost or destroyed without any pictures taken in its defective condition, then it is virtually impossible to prevail in a defective products case. If you do not own the product, then you must take detailed pictures and contact a defective product attorney as quickly as possible. This will allow the defective product lawyer to send a certified letter to the owner of the product requesting that they maintain the condition of the product during the pendency of the claim. If the owner fails to maintain the product after receiving the letter from the attorney, then they will be subject to some presumptions of guilt regarding the condition of the product. Of course, if you own the product, then you need to maintain the product in the exact condition it was in at the time of the injury. This may mean that you need to have the product covered or stored in a safe place to protect its condition.
DEFECTIVE PRODUCT CLAIMS NORMALLY INVOLVE A BATTLE OF EXPERT WITNESSES.
Most defective products cases require the employing of an expert to testify regarding the defective nature of the product, which is one of the reasons that the defective product must be preserved so the expert can review and test it. This type of case often comes down to a battle of the experts and the hiring of the expert requires a significant investment on behalf of the defective product lawyer. Therefore, it is impractical to make a claim for minor injuries. Only serious injuries requiring surgery or causing death are worth the investment required in a defective products case.
DEFECTIVE PRODUCT CLAIMS NEED TO BE FILED WITHIN ONE YEAR AFTER THE ACCIDENT OR INJURY.
Defective product cases, also called products liability cases, need to be filed within one year from the date of injury and normally they end up in federal court because the manufacturer is located in another state. It can take a year or more to litigate these claims and they are challenging and difficult to win. Kentucky law establishes some presumptions that make it more difficult to prevail in a products liability claim - First, if the alleged defect occurs more than 5 years after sale of the product or more than 8 years after its manufacture, then there is a presumption that the product is not defective; Secondly, the product is presumed not to be defective if it was manufactured in accordance with the prevailing standards for manufacturing and testing at the time of its manufacture. You can review the Kentucky statute on these presumptions by clicking here. The difficulty of these claims makes it important to find a lawyer with the experience and determination to get the job done.
WHAT YOU NEED TO DO NOW- CONTACT LOUISVILLE DEFECTIVE PRODUCT LAWYER MATT TROUTMAN
If you have a defective product claim as described above, then you need the help of a defective product lawyer like Matt Troutman, of the Troutman Law Office. If you have been injured or lost a loved one as result of a defective product in or near Louisville, Lexington or anywhere in Kentucky, you have legal rights and Mr. Troutman is a defective product lawyer that can help you recover compensation for your losses. In order to contact Mr. Troutman for your free case evaluation, you can complete the contact form on this website by clicking here or you can call him directly at 502-648-9507. Call today and win against the manufacturers of defective products.