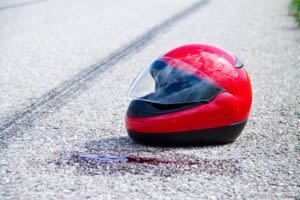 Motorcycle vs. 18-WheelerAccident in Pikeville, Kentucky
---
A motorcyclist, with a passenger on board, reportedly pulled out in front of an 18-Wheeler truck in Pikeville, KY on May 10, 2023. I cannot imagine a worse nightmare of an auto accident than an unprotected motorcycle pulling out in front of an 18-Wheeler truck. The passenger on the motorcycle was pronounced dead at the scene and the driver of the motorcycle was taken to Pikeville Medical Center for medical treatment. The accident took place on US 23 in Pikeville around 7 pm.
What claims can be made as the result of Wrongful Death?
It appears from the facts reported by the police, that the driver of the motorcycle is solely at fault. Assuming that to be true, what claims can be made as a result of this accident by the passenger on the motorcycle. The most obvious claim is a wrongful death claim on behalf of the estate for the motorcycle passenger who died in the accident. The estate is entitled to the projected earnings of the passenger over his or her lifetime had they lived a normal life expectancy. Normally, this is the most significant claim in a wrongful death suit.
Other claims that could be made include a loss of consortium claim by the spouse of the person who died in this accident assuming they were married. This claim is for the loss of companionship and services of the decedent over their lifetime. If the motorcycle passenger had children under the age of 18, then they could make a loss of consortium claim for loss of companionship and services during their childhood. Claims can be made for medical expenses, pain and suffering (if it is proven that the decedent consciously survived for a period of time aft the accident), and funeral expenses.
Kentucky Motorcyclists Should purchase Kentucky No-Fault Insurance.
Kentucky law requires Kentucky no-fault insurance coverage (also called PIP coverage) on all automobiles, but not motorcycles. The lack of PIP coverage can cause the motorcycle accident victim financial hardship on a couple different levels. First, PIP coverage offers a partial lost wage benefit of $200/week and this can be valuable to someone unable to work due to their injuries. Of course, motorcycle accidents involve significant physical injuries and it is likely that the motorcycle accident victim will be off work due to their injuries. Secondly, the existence of PIP coverage extends the statute of limitations for their personal injury claims. If the motorcycle accident victim fails to settle their claim or file a lawsuit within one-year from the date of the accident, they will lose their claim entirely against the at fault party. If they had PIP coverage, they would have at least 2 years to resolve their claim or file a lawsuit.
When buying motorcycle insurance make sure that you purchase significant amounts of uninsured motorist, underinsured motorist and PIP coverages. One of the coverages that you may be able to reduce is liability coverage if you do not plan on having passengers on your motorcycle. A motorcycle does not often cause significant damages or injuries to others and, therefore, significant liability limits may not be needed. Of course, if you take passengers on your motorcycle, then significant liability limits would be necessary because motorcycle passengers can experience significant injuries or death.
I am not positive why people, who can afford significant coverages on their automobile, fail to purchase similar coverages on their motorcycle. I suppose the main reason is to save money. The problem with this thought is that many of the coverages they are not buying are cheap. One such coverage is underinsured motorist coverage. This coverage is one of the most needed and used in auto accident claims because at fault drivers tend to have minimum limits of liability coverage. Underinsured motorist insurance allows you to buy protection against being injured by drivers who do not have enough insurance to satisfy your claim. Another reason people do not buy enough insurance on their motorcycle is because insurance agents fail to properly educate them on the coverages.
CONTACT KENTUCKY MOTORCYCLE ACCIDENT LAWYER
If you are involved in a motorcycle accident, you will require the services of an experienced Kentucky motorcycle accident attorney to investigate the cause of the accident and maximize all benefits available to the victims and their families. Matthew Troutman, a Kentucky motorcycle accident lawyer, of the Troutman Law Office has been handling motorcycle accident claims and auto accident claims, almost exclusively, since 1986 and has the experience and talent to obtain the best result for the victim in the above accident.
If you need legal assistance due to a motorcycle accident, contact Louisville motorcycle accident attorney Matthew Troutman directly at 502-648-9507 or 859-696-0001 and he will meet with you in the hospital, your home or wherever is convenient for you. He will give you direct access through his cell phone and guide you through the difficult process necessary to obtain the best result possible for you in your motorcycle accident claim. To learn more about Kentucky motorcycle accident attorney Matthew Troutman and the Troutman Law Office, click here.