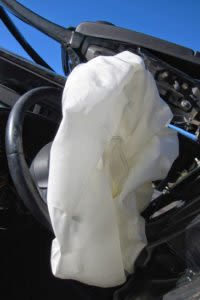 YOUR INSURANCE COMPANY CANNOT RAISE YOUR RATES IF YOU WERE NOT AT FAULT IN AUTO ACCIDENT
---
In over 37 years as an attorney for people injured in car, truck and motorcycle accidents, I have been asked by many clients about whether their auto insurance rates will go up because of their claim. Additionally, I have had many clients refuse to make auto accident claims because of the fear of their insurance rates going up or the insurance rates of a friend or relative going up due to the auto accident claim. Many times, I have told clients about the following statute:
304.20-045 Increase in premium on automobile liability insurance policy -- Complaint.
1. (1) No insurer shall increase the premium on an automobile liability insurance policy solely as a result of a claim for an automobile accident filed by an insured if the insured was not at fault nor contributorily negligent.
2. (2) An insured may notify in writing the commissioner if the insured believes that an insurer has increased his or her premium in violation of subsection (1) of this section. The commissioner shall investigate the complaint, take appropriate action, and send written notice of his or her actions to the insured.
Effective: July 15, 2010
History: Amended 2010 Ky. Acts ch. 24, sec. 1309, effective July 15, 2010. -- Created 1978 Ky. Acts ch. 341, sec. 1, effective June 17, 1978.
Despite the clarity of the above statute, many of my clients refuse to make claims worth thousands of dollars because of the fear that their insurance rates will be increased as a result.
The most frequent circumstance where I see clients refusing to make claims is when it involves not their auto insurance but that of a friend or relative. There are many circumstances where "uninsured motorist" (claims made for compensation due to injuries caused by someone with no insurance) and "underinsured motorist" (claims made for compensation due to injuries caused by someone with not enough insurance) claims can be made on a relative's policy on a vehicle that was not involved in the accident that caused the client's injuries. For instance, you are in an accident and the at fault party does not have insurance. Under these circumstances, the only way to make a personal injury claim is if you can find uninsured motorist coverage to make a claim against. Frequently, clients injured in accidents with uninsured drivers live with a relative that owns a vehicle and has uninsured motorist coverage. Most people are surprised that this coverage would be in play since the vehicle was not in the accident and the client is not a named insured under the policy.
However, any auto policy normally covers "resident relatives" and, as a result, the client is covered under the relative's policy and can use that coverage to make an uninsured motorist claim. Usually, the client will notify the relative of this possibility and the relative will scream bloody murder. They will not want a claim to be made against their policy because they do not want to pay higher insurance rates. I will tell the client about the above statute that says insurance companies cannot raise the rates when the insured is not at fault. Unfortunately, the relative is not convinced by this statute and the client refuses to make the claim because they do not want to offend the relative.
CONTACT LEXINGTON AUTO ACCIDENT LAWYER
If you are involved in a Lexington, car, truck or motorcycle accident, will require the services of an experienced Lexington auto accident attorney to investigate the cause of the accident and maximize all benefits available to the victims and their families. Matthew Troutman, a Lexington auto accident lawyer, of the Troutman Law Office has been handling auto accident claims, almost exclusively, since 1986 and has the experience and talent to obtain the best result for the victims in the above car accident.
If you need legal assistance due to a motor vehicle accident, contact Lexington auto accident attorney Matthew Troutman directly at 502-648-9507 and he will meet with you in the hospital, your home or wherever is convenient for you. He will give you direct access through his cell phone and guide you through the difficult process necessary to obtain the best result possible for you in your car accident claim. To learn more about Lexington car accident attorney Matthew Troutman and the Troutman Law Office, click here.